"These guys have the right spirit and the right detail.
I flew in from Vegas just for this."
-Paul Stanley of KISS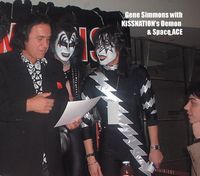 "This was great!"
-Gene Simmons of KISS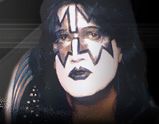 "I haven't seen many of the current contenders lately, but I'd have to say that KISSNATION will blow the doors off the house."
-Tommy Thayer of KISS
"KISSNATION is a must-see. The song selection and diversity is impressive, appealing to every generation of KISS fans. They sound great, look great and dare I say, can energize any audience and leave them begging for more! What a great group of guys!"
-Eric Martin, webmaster of
TOMMERTHAYER.COM

"You guys are so great.  It really is the best I have every heard."
-STACY E. WALKER, KISS fantasy model
"Kissnation is one of the best tributes around to those made-up, flamboyant hard rockers from the days when big hair on men was cool."
-The Long Island Ear

"KISSNATION is lots of fun and very entertaining... I like them because they are one of the coolest bands around, they're coolness by association and they wear more makeup than I do!"
-Joanie Laurer, The former WWF wrestler known as CHYNA
"Let me just say I've seen plenty of Kiss tribute bands and KISSNATION are the new reigning kings. "
-Mark Aungst, kisstoybox.com
"...KISSNATION are a very curious prospect,..."
-The Village Voice, NYC
"See KISSNATION, because It's more convincing seeing young guys playing young KISS, than old KISS playing young KISS"
-The Aquarian, NJ
"We watched intently as the band rocked out and spit blood.  Fans banged their heads and lip synched the words to every song..."
-Shout Magazine, NYC

• Hired by Sony Signatures to make an appearance unveiling the KISS ACTION FIGURES from Todd Mcfarlane Toys at the 1997 Licensing Show. 

• Does an appearance/interview for the SCI-FI Channel promoting the KISS ACTION FIGURES.

• Makes an appearance at the premiere of The New Line Cinema's motion picture, Detroit Rock City.

• Hired to perform by ART ASYLUM , the toy company behind the 24" singing KISS ACTION FIGURES.

• KISSNATION's Demon interviewed LIVE with Gene Simmons on CNBC's show titled POWER LUNCH.

• Invited guests of Gene Simmons & Paul Stanley to appear at Tower Records , New York City to promote the KISS Box set. 

• Invited guests of Gene Simmons at SPA Nightclub, New York City, to promote his biography, Kiss & Make-up and at The Virgin Megastore in Times Square as well. 

• Live interviews on VH1 

• Interview for the gentelmen's magazine, HUSTLER 

• Live performance at New York City's Hard Rock Cafe for the 2002 Toy Fare to promote the new line of KISS Toys by Art Asylum .

• Filmed VH1 pilot (w/ Gene Simmons and Paul Stanley) for the series, MOCK ROCK.